This post is going to be packed with tweets. They unfold a story.
The Windows Store is generally great; it offers heaps of stuff and the latest Windows 10 integration with Xbox One is really great. I like it that I can buy/download something on my PC and it syncs to my Xbox.
The store and Xbox One, as any modern platform, are supposed to be global. There shouldn't be any geographical boundaries: for games as an example, as soon as you bought the physical Xbox machine, you should be able to buy any game or movie, either in a physical form (Blu-ray) or as a download.
To my surprise, this turned out to not be the case.
It started with this Scott Hanselman tweet that I was very happy to read:
There are a ton of great movies to rent for *10 cents* in the Windows 10 store. Rent now & you have 14 days to watch https://t.co/nmDmYMSL0X

— Scott Hanselman (@shanselman) November 28, 2015
Sounds like a very good deal. According to the PR page: "For the next 10 days, you can enjoy over 1,000 of the latest Hollywood movies, blockbuster music, must-have apps, and addictive games – for only 10 cents each."
So I hurried to get some; followed the link and indeed no surprise there – good variety of songs, games and movies for 10 cents: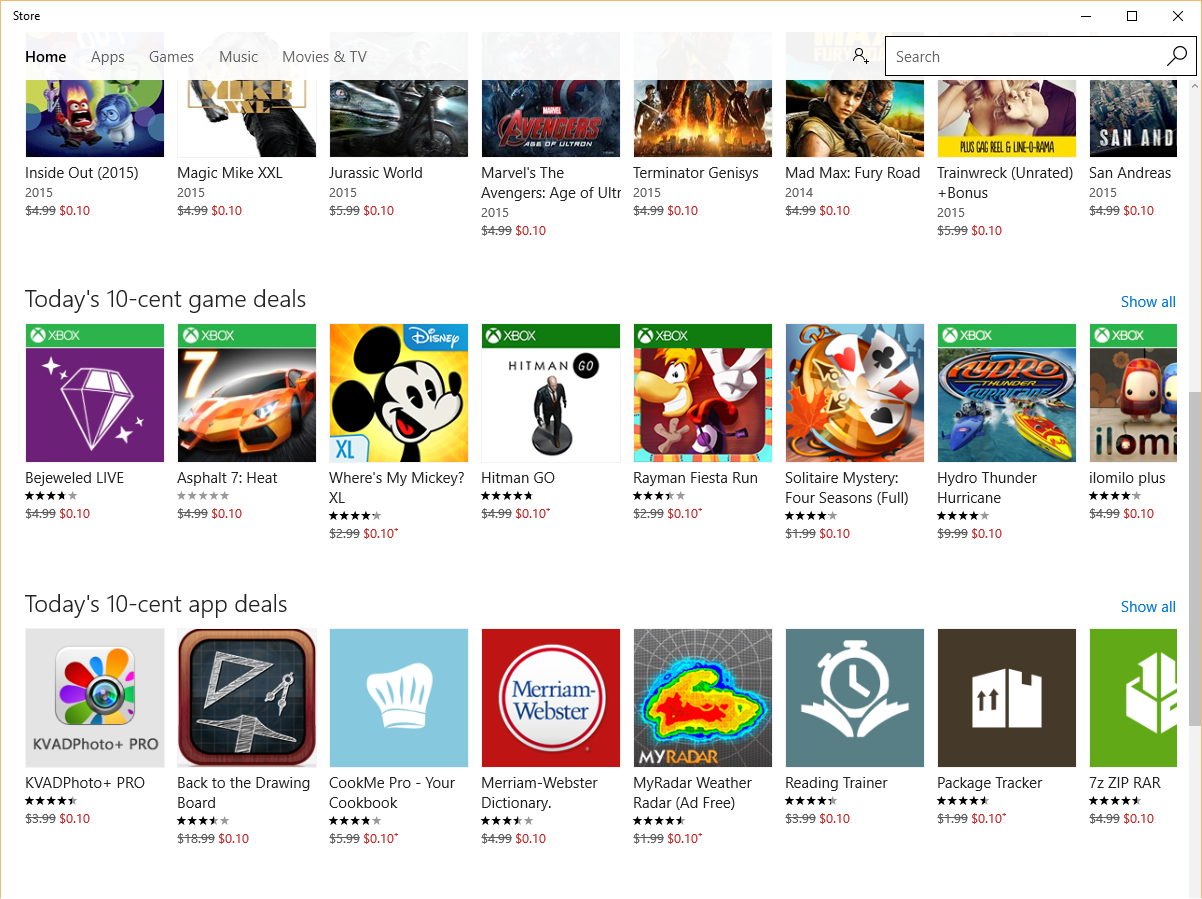 I picked one and proceeded to checkout, just to see that it's real: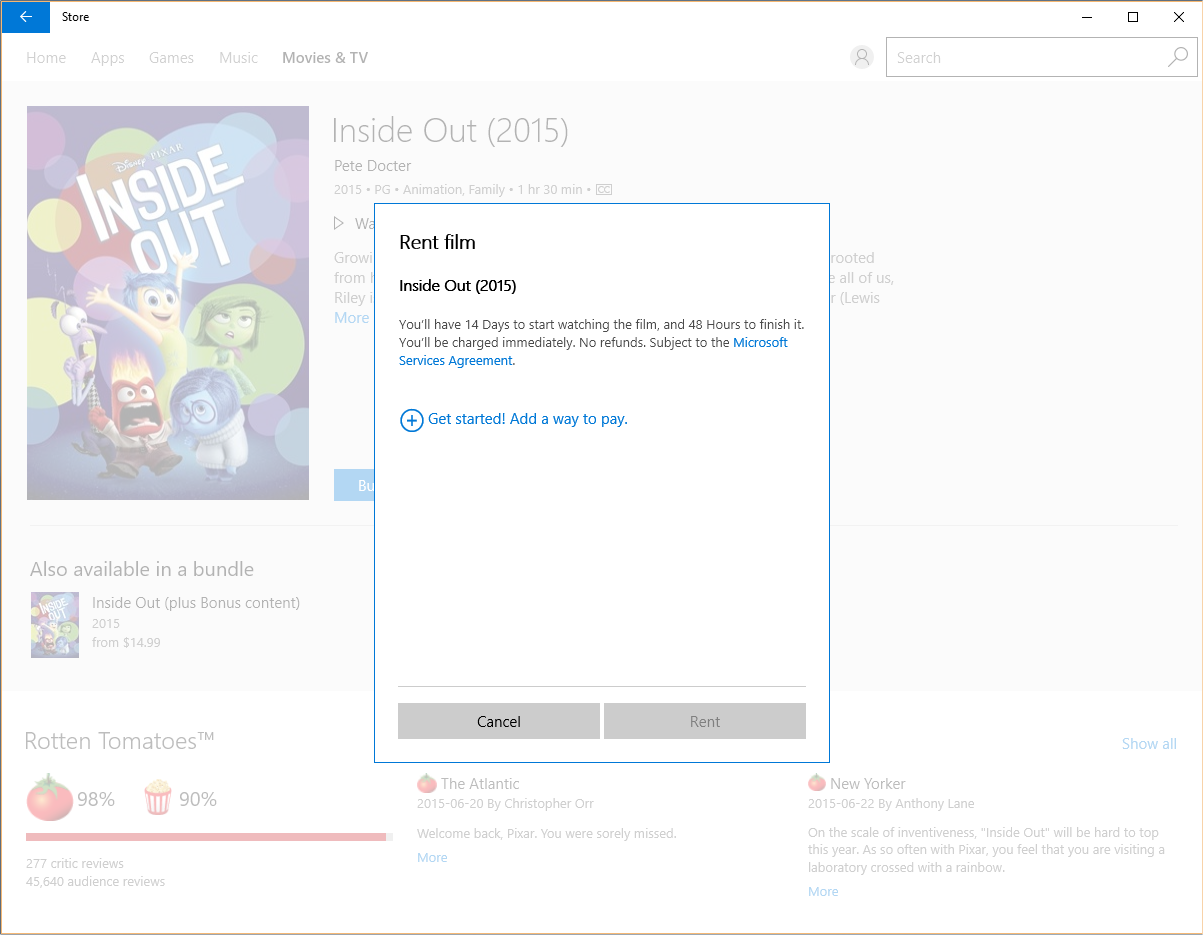 Fair enough. Let's add a payment device: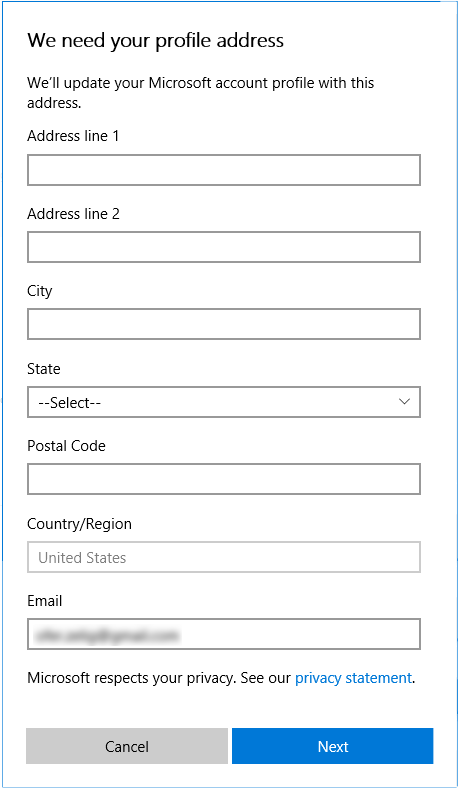 Roadblock. I'm in Australia. What am I supposed to enter here? it's just US states, the country field is pre-filled as United States and it's disabled. I figured it's because my account is defined as a US account – I didn't do anything explicitly to define it – I think it's the default (why?). I could put a fake US address just to get through checkout but I guessed it won't work as my credit card would be checked against my zip code. So I went to my Windows account settings and changed my country to Australia. Went back to the list of games and movies, just to see regular listed prices all over. No 10 cents for you, non-US resident.
And indeed, reading the PR page again, there is some fine print below: "Valid in the 50 US states & DC only."
Why?
I replied to Scott:
@shanselman it's only in the US. I'm in Australia and prices are high as usual. Feel isolated. How disappointing.

— Ofer Zelig (@oferzelig) November 29, 2015
And his response was direct and honest, I must say:
@oferzelig I'm sorry. It sucks. @windowsstore

— Scott Hanselman (@shanselman) November 30, 2015
What do the @windowsstore managers have to say?
@Lybecker We're grateful for all our fans but for now, the campaign is limited to U.S. only. Check local markets for a range of promo offers

— Windows Store (@windowsstore) November 20, 2015
(Note: this was much before I contacted Scott; it's a reply to someone else querying about the exact same thing.)
Why, Microsoft? why regional promotions? and there's no Windows Store Australia by the way. There is one, it's called "Windows Store", not "Windows Store USA", but apparently it's American. There are no great promotions in the Microsoft Australia account for example, at least not as great as 10 cents for movies, songs and games. I tweeted Microsoft Australia and got no reply:
@MSAU how come the 10c Windows Store / XBOX sale was for US only? what about us in Australia and the rest of the world?

— Ofer Zelig (@oferzelig) November 29, 2015
In this day and age, there is absolutely no reason for regional promotions. Everyone is exposed to the same channels (on Twitter, Facebook, MS blogs etc.), everything is accessible everywhere, and it simply doesn't make any sense to differentiate. I can understand movie distribution contract restrictions (well, I don't, but that's another story – it's a very hard paradigm to change overnight) but I can't understand console game, PC game and sound album distribution limitations.
I think we should all approach Microsoft and encourage them to either make their promotions global; the world does not start and end in the United States.
No 10 Cents Windows Store for You, Non-US Resident